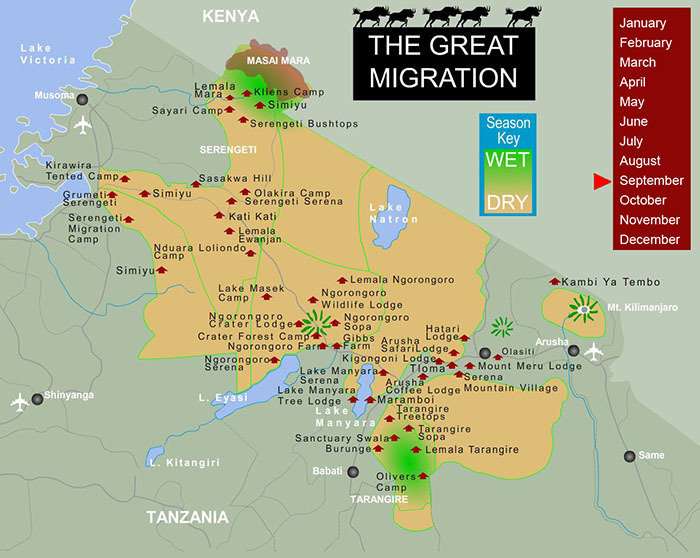 Serengeti migration lodges,camps and hotels location- January-March
During the months January through March the migration is best observed from a luxury mobile camp as there are no permanent high end properties in this area (unless you count Lake Masek Tented Camp which is decent). We have run into problems with flies (the common household variety) at several camps over the years. The simple, but personality packed, Ndutu Safari Lodge is a great value for those willing to compromise a bit on comfort. For those of you who must have luxury Mwiba Lodge is a great option this time of year catch the Serengeti migration.
April / May
By May the depleted short grass plains are unable to sustain the endless herds. The migration sweeps west and north, to the Serengeti's Western Corridor and almost to Lake Victoria, where there is long grass and more dependable water. Not all the wildebeest and zebra will follow the same route – whilst parts of the migration head to the Western Corridor and Grumeti before proceeding north, significant numbers simply head north via Seronera.
Serengeti migration lodges,camps and hotels location-April
During April you may have some luck catching the migration at Ndutu Safari Lodge. Kusini Camp would be a better bet. During May the centrally located Serengeti Serena Lodge offers good resident game however we won't touch it – they are known to overbook leaving guests without rooms. There is also considerable crowding in this area.
June – By early June things are drying up
The Serengeti migration herds continue westwards, towards the Grumeti River. The riverine forest harbors plentiful buffalo and elephant, while there are many hippo and huge, hungry crocodiles in the river waiting for the wildebeest as they come to drink.
Serengeti migration lodges,camps and hotels location in -June
Singita Grumeti Reserve with the highly sought after luxury properties – Faru Faru River Lodge, Sasakwa Hill Lodge, and Sabora Plains Tented Camp – can be incredible for the serengeti migration during June. A big plus is the ability to partake in wildlife viewing walks, drive off road in open 4×4 vehicles, and do night drives in this private area. Also Beyond's Grumeti River Camp and Kirawira are also good options for viewing the migration at this time.
July / August / September / October
The Serengeti wildebeest rapidly deplete the grass and water in the Western Corridor and Grumeti and start to move on. The Serengeti migration may still be found in the Singita Grumeti Reserve during July but the odds become slimmer as you move through the month. In a typical year the serengeti migration can be spread over huge distances, with the first Serengeti zebra herds arriving in the northern Serengeti by early July and big herds of Serengeti wildebeest following later in the month.
In a dry year, the first Serengeti wildebeest could be near the Mara River the only decent permanent water in the eco-system by early July; in a wet year, by mid-August. If conditions are very good, i.e. there is plenty of grass and water; the Serengeti migration herds will be spread out all the way from Seronera to the Mara River.
Normaly from late July to mid October the Serengeti wildebeest reside in the northern Serengeti and Masai Mara. The dry season is well under way and the Serengeti herds congregate near water, especially the Mara River filled with hungry crocodiles.Mid to late October dramatic thunder clouds herald the onset of the short rains and call the migration southward. Wherever rains fall the change is dramatic with thousands of animals arriving almost overnight.
Serengeti migration lodges,camps and hotels location -July / August / September / October
For all out luxury Singita's Mara River Tented Camp is our favorit. Sayari Camp is a very close second with perfect tented rooms and superb location only minutes away from a number of common wildebeest migration river crossing points. Bushtops has some really nice rooms but is an hour's drive from the river. Nomad's Lamai Camp is a bit closer. Migration Camp is worth considering if you can't get into Sayari or Singita but the tsetse flies in the area can drive one insane! If you wish to save some monies a mobile camp in the Kogatende area works well.
November to December
November to December as the rains continue during November the herds move south and east. Heading into December long lines of wildebeest can be seen moving back to the southern Serengeti and its short, rich grasses. The circle of life is complete as they begin to arrive late December into early January. Elsewhere in the Serengeti the grass grows fast and tall making wildlife viewing more difficult.
Serengeti migration lodges,camps and hotels location / November to December
You might catch the Serengeti wildebeest migration from Klein's Camp or not. This area, which has some jaw dropping scenery, is home to some pretty feisty tsetse flies. Namiri Camp is a great option with loads of lion and cheetah in the area, although, with the wildebeest on the move this time of year, you may or may not see large herds.
Enjoy your serengeti safari to see the serengeti migration with Debby Adventure and stay in the best hotes,lodges and camps
SUPER FAST BOOKING
Our team is standing by 24/7 to assist from the time you inquire about trekking and safaris until the last day. Our goal is to ensure everyone has a great trekking experience.
BEST PRICE GUARANTEE
Getting the best price is great, getting the best value is even better. We provide the support and service you expect. No fine print, no legal mambo jumbo. This is our pledge to you, simple and secure. So go ahead and book now!
10+ DESTINATIONS
Tanzania has approximately 38% of its land area in protected areas for conservation. There are 16 national parks, 29 game reserves, 40 controlled conservation areas, and marine parks. Tanzania is also home to Mount Kilimanjaro, the highest point in Africa.