SERENGETI NATIONAL PARK
About The Park
Size: 14,763 sq km (5,700 sq miles). Location: 335km (208 miles) from Arusha, stretching north to Kenya and bordering Lake Victoria to the west.
What to do there ?
Hot air balloon safaris, walking safari, picnicking, game drives, bush lunch/dinner can be arranged with hotels/tour operators. Maasai rock paintings and musical rocks.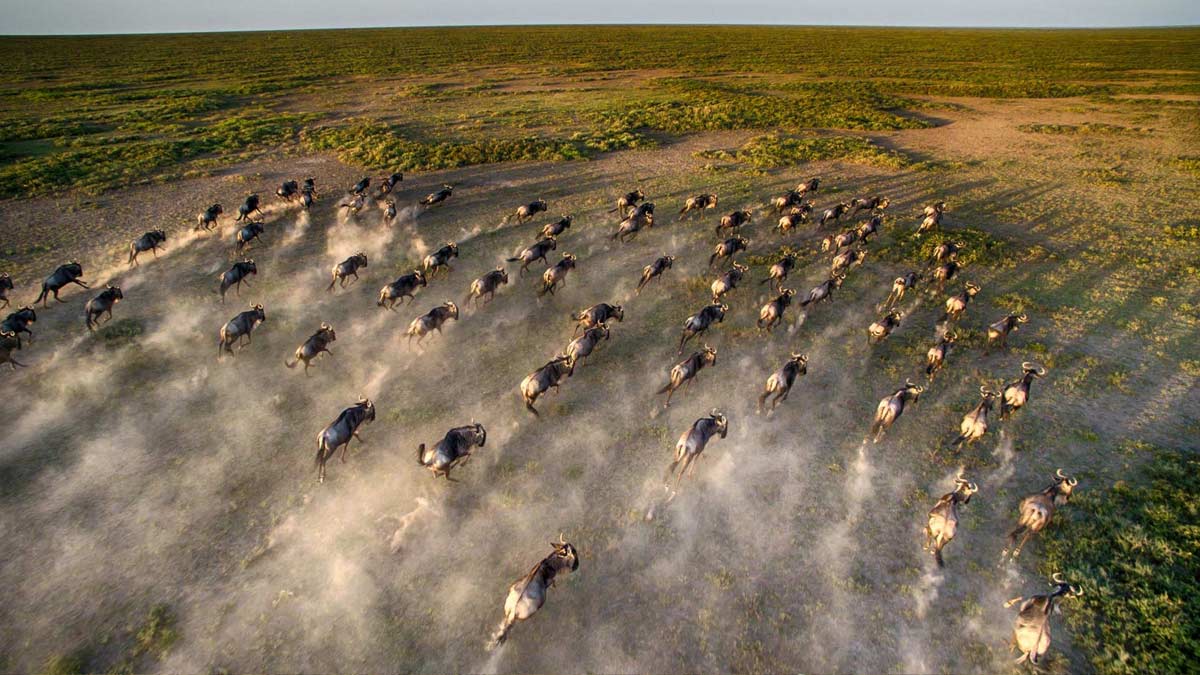 A million wildebeest… each one driven by the same ancient rhythm, fulfilling its instinctive role in the inescapable cycle of life: a frenzied three-week bout of territorial conquests and mating; survival of the fittest as 40km (25 mile) long columns plunge through crocodile-infested waters on the annual exodus north; replenishing the species in a brief population explosion that produces more than 8,000 calves daily before the 1,000 km (600 mile) pilgrimage begins again.
Tanzania's oldest and most popular national park, also a world heritage site and recently proclaimed a 7th world wide wonder, the Serengeti is famed for its annual migration, when some six million hooves pound the open plains, as more than 200,000 zebra and 300,000 Thomson's gazelle join the wildebeest's trek for fresh grazing. Yet even when the migration is quiet, the Serengeti offers arguably the most scintillating game-viewing in Africa: great herds of buffalo, smaller groups of elephant and giraffe, and thousands upon thousands of eland, topi, kongoni, impala and Grant's gazelle.
As enduring as the game-viewing is the liberating sense of space that characterises the Serengeti Plains, stretching across sunburnt savannah to a shimmering golden horizon at the end of the earth. Yet, after the rains, this golden expanse of grass is transformed into an endless green carpet flecked with wildflowers. And there are also wooded hills and towering termite mounds, rivers lined with fig trees and acacia woodland stained orange by dust.
Popular the Serengeti might be, but it remains so vast that you may be the only human audience when a pride of lions masterminds a siege, focussed unswervingly on its next meal.
SUPER FAST BOOKING
Our team is standing by 24/7 to assist from the time you inquire about trekking and safaris until the last day. Our goal is to ensure everyone has a great trekking experience.
BEST PRICE GUARANTEE
Getting the best price is great, getting the best value is even better. We provide the support and service you expect. No fine print, no legal mambo jumbo. This is our pledge to you, simple and secure. So go ahead and book now!
10+ DESTINATIONS
Tanzania has approximately 38% of its land area in protected areas for conservation. There are 16 national parks, 29 game reserves, 40 controlled conservation areas, and marine parks. Tanzania is also home to Mount Kilimanjaro, the highest point in Africa.